Stanley is a very funny little special needs pug, who loves nothing more than to sit and cuddle!
All of 11 years old, this boy is full of love and gives kisses, like ALL the time. When you scratch his bum, which he very much enjoys, Stanley does a funny little dance too. He likes to be close to you, so if you like pug cuddles and kisses, Stanley is your pug man.
Stanley is a Pug with Special Needs
Stanley is blind and diabetic, and therefore he is a pug with special needs. He requires a very strict routine of feeding followed by his dose of insulin twice a day. He will require vet visits to make sure his diabetes is still in control every 2 to 3 months.
Stanley is very good about getting his insulin shots. For this dog, the cost of insulin and syringes is approximately $400 to $450 a year. This is only an estimate, based on his current doses. Stanley is eating Wellness Core Ocean Formula and will need to stay on this. His insulin is regulated to this food.
Stanley will go into a crate to eat. Once he's done, he lets you know that he wants out. Crating is his safe place, to eat away from the other dogs and that's it. He needs to be around people. Even at the vet, he needs to be talked to and reassured that someone is there, when he's in the kennel.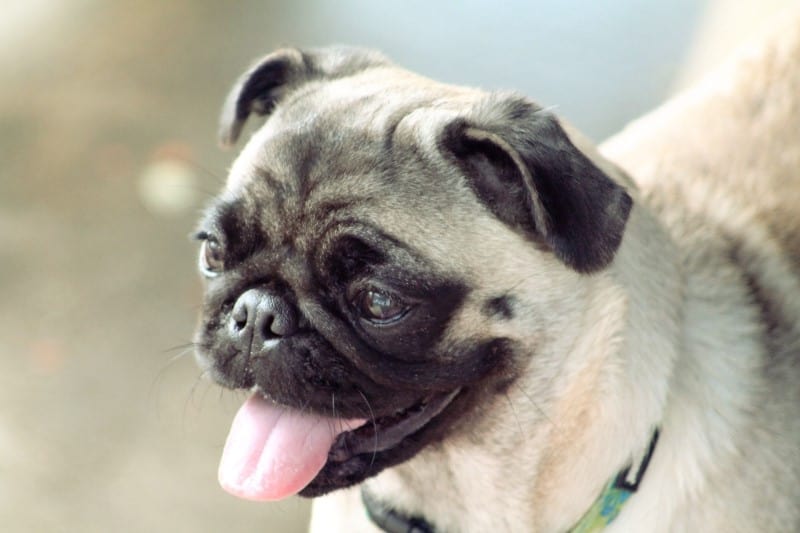 Being blind makes him a lot more in tune to outside sounds. He is a little vocal when someone comes to the door or when he hears another dog barking. He does occasionally have a pee accident in the house. He has a set bathroom routine and if it's thrown off he will sneak into the bathroom and pee (he seems to know what that room is for, smarty guy).
Stanley gets along very well with people but, due to his blindness, it would be best if he went to a home with kids 12 and up. That way all the two-legged family members will well understand the implications of Stanley not being able to see. He is good with small less active dogs, and is logical, due to his blindness a playful young dog would not likely be a good doggie match for him.
He would do best in a house with a fenced yard. Stanley does walk well on leash but is very cautious and slow. He loves to just wander around in the back yard.
Special Needs Pug Adoption Trivia to Know
Medical issues: Diabetic; Blind
Special needs diet: Wellness Core Ocean formula
Behaviour issues? None
Good with kids? Yes 12 and over
Good with dogs? Yes, older small dogs
Good with cats? Yes
Housing? House, with a fence
Crated? No
Time dog is alone? 3-4 hours
House training? Trained, if his routine is followed
Sleep with humans? Yes
FOSTER UPDATE – January 8, 2015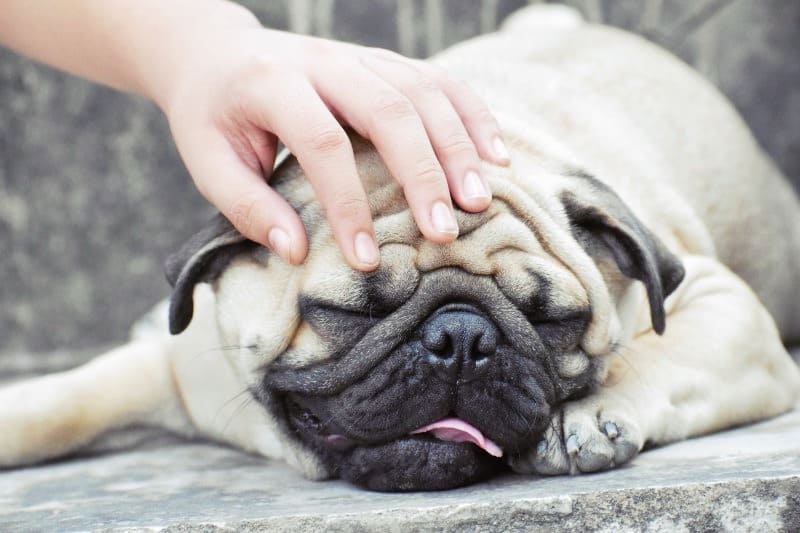 Stanley may finally be on the road to stabilizing! He had a curve done today and it was the best that it's been in quite a while. He'll have another one done in a week or two. We're optimistic, but obviously crossing our fingers that it doesn't drop too low, which is what happened the last time.
Stanley also had a birthday in December. He turned 11 on the 17th!! However, it was a bit upset that all he got was a hat! Fortunately Santa made up for that with a new dog bed, which has been placed in front of the heat vent and he's been happily enjoying it every since – except when his foster mom wakes him up to take his picture!
About Pugalug Pug Rescue
Pugalug Pug Rescue is a bridge between a pug's past life and its future forever home. The not-for-profit organization is comprised of a group of volunteers who are committed to helping pugs in need. The organization provides medical care, loving attention, comfort, food, companionship and ultimately a forever home. For more information, visit the Pugalug Showcase here on Furever.