My name is Lucy, and I'm a 7-year-old spayed female Beagle mix who weighs in at an athletic, svelte 40 pounds. I was given away by the only family I ever knew last May because they were having a baby.
The people I have been staying with since I moved from my first home are quite nice and say I'm the smartest hound they've ever known and am a good problem solver. While I'm happy to relax and nap for part of the day, I need to have fun and stay engaged too – and I might even make my own fun if you don't come up with something for me to do.
Neighbourhood walks are all right, but my preference are the sights and scents of a trail hike. I love my puzzle toys, although I'm not always so graceful while using them! I'm a thinker and really thrive when I am kept busy with training and learning new things. I need an owner who enjoys keeping up with my superior mind!
Watch Lab Beagle Mix Lucy with her Dog Trainer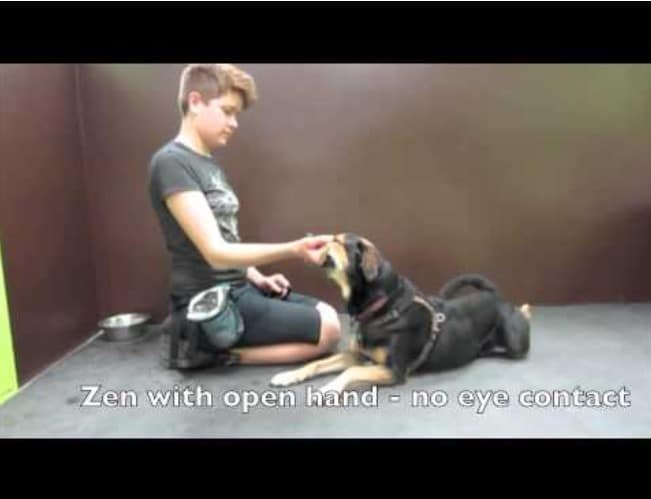 When it comes to tricks, I have the best "spin" this side of the Mississauga. I leap up in the air while twirling in a circle, ears flying! I can also twist, stretch, and touch anything with my nose. I love training and do it all with a flair of my own and an enthusiasm that can't be matched.
Even though my good points definitely outweigh the so-called "bad" ones, there are a few things my new people need to consider in order to ensure we are a good match: Dogs and children make me very uncomfortable, so I need to be in a home where there are no dogs or children younger than their mid-teens (or cats, but that's because I just can't resist chasing them).
I'm learning that dogs aren't as bad as they appear, but they still unnerve me, so it's important that my new person is able to help and protect me rather than punish me if I become upset or flustered. A house would be the best place for me; I don't bay like a hound, but I will bark when there's activity outside. When I'm not sniffing out interesting smells or training with my people, I enjoy a good cuddle on the couch or in bed.
I've been waiting a long time for a furever home, and it would be nice to have someone ask about me, as all the other dogs who came into the rescue at the same time as me have long since been adopted. If you are interested in meeting me you can email Lorraine (Lorra[email protected]) and she will make sure we get connected.
Hope to meet you soon.
Wags, Lucy
About Speaking of Dogs
Working with adoptable mixed breed dogs and dogs of all breeds, Speaking of Dogs Rescue is a Toronto-based organization that is dedicated to educating and enlightening people about dogs through seminars/workshop forums, outreach and rescue. Our goal is to end cruelty, abandonment and homelessness of man's best friend.
We are committed to a dog's quality of life and strive to promote a responsible, caring and compassionate attitude toward all dogs. We are a reputable rescue which follows the operational guidelines of Helping Homeless Pets and Province of Ontario Rescue Directory.