Tripod Greyhound JJ; an ex-racing dog.  The sad story is common – racing accident, leg crushed at the track, it happens. Of course the dog is no longer an asset, can't do the job he was bred to do – he's to be put down.  But not JJ.  His guardian angels were looking down on him the day the track vet refused to euthanize him.  Instead, the vet called Greysave, a Greyhound rescue organization in California.  And about the same time, Greysave received a call from a volunteer who expressly stated they were willing and able to take on a special needs dog.  The stars align. JJ looses his leg in a 4-hour intricate surgery; an amputation up to the hip. Within 8 hours, he's at his foster dad's home and on his feet ready to go!  JJ finds true happiness, cause Jerry ain't about to let JJ go anywhere else. Now ain't that just the most inspiring thing you've heard today?
Watch the video -
I love my Tripod Greyhound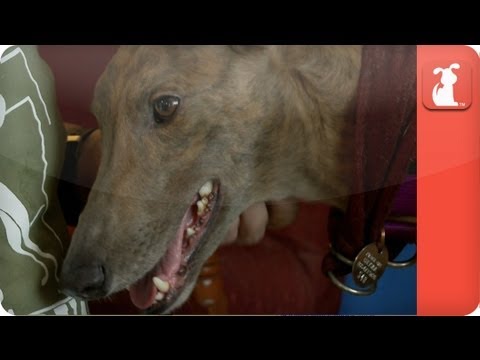 But that's not all …. "Just want to send an update on JJ. He is now a Certified therapy dog. He will be working on reading programs with kids and with senior citizens and as soon as I can get it worked out Veterans who have come back with severe injuries (our ultimate goal). He has his bandana and ID card and his vest is on order and should be here by the end of next week. I am so proud of his hard work and how good he is at all he does. My JJ you are an amazing dog and we are so happy to have you in our home." – JERRY
Save a Life – Adopt a Grey – they'rrrrrrre GREYT!

The Greyhound Project maintains a Greyhound Adoption Agency Directory that is global in scope – check it out here!