According to the AKC, Rottweilers love their owners and may behave in a clownish manner toward family and friends, but they are also protective of their territory and do not welcome strangers until properly introduced. Obedience training and socialization are musts.
The Rottweiler Need for Training
Rottweiler working dogs are a powerful breed with well-developed genetic herding and guarding instincts. As with any breed, potentially dangerous behavior in Rottweilers usually results from irresponsible ownership, abuse, neglect, or lack of socialization and training. However, the exceptional strength of the Rottweiler is an additional risk factor not to be neglected. For this reason, breed experts recommend that formal training and extensive socialization are essential for all Rottweilers.  They are not considered a "beginner" dog, that is to say, most experts would recommend a dog-experienced owner for the typical young Rottweiler.
Rottweiler Herding Dog
Here's a very brief clip that demonstrates the "head on" herding style of the Rottweiler working dog.  Rather than nip at heels or bark to get the cattle to move, the Rottie identifies the lead cow, and intimidates them head to head.  it takes great courage to face down an angry cow that does not want to get along doggie!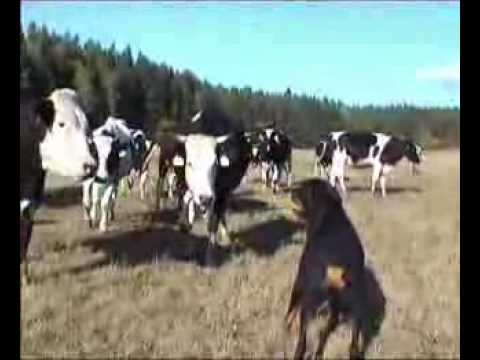 Rottweilers at Schutzhund
Schutzhund is the German word meaning "protection dog." Schutzhund training tests dogs of all breeds for the traits necessary for police-type work. Dogs that pass Schutzhund tests are considered suitable for a wide variety of tasks: police work, specific odor detection, search and rescue, and many others. The purpose of Schutzhund is to identify dogs that have or do not have the character traits required for these demanding jobs. Some of those traits are:
Protective Instinct
Intelligence
Strong desire to work
Strong bond to the handler
Courage
Perseverance
Trainability
Here are some Rottweiler working dogs in Schutzhund training tests.
Rottweiler Police Dogs
Once they are trained, the Rottweiler breed is often used for military duties as well as police duties.  This image shows a Rottie in the Russian ranks, amongst all his German Shepherd Dog brethren!
A Rottweiler police dog on assignment.
Rottweiler Working Dogs are Happy Rotties
The Rottweiler is happiest when given a job to perform. His intelligence, endurance and willingness to work make him suitable as a police dog, herder, service dog, therapy dog, obedience competitor and devoted companion. An inherent protector, the Rottweiler is self-confident and responds quietly and with a wait-and-see attitude to influences in his environment.
Whether its visiting folks in hospitals, helping kids learn to read, or starring as the reindeer pulling a cart in the local parade, a well trained and well socialized Rottweiler is a happy dog indeed. And has so much happiness to give others too!
If you feel you have the time, dedication, lifestyle and passion to give a Rottweiler, please consider adopting a dog in need from a rescue group like Keshet Rescue or any of those listed in our article About the Rottweiler Breed and Rescue Resources. That dog will reward you with his lifetime of loyalty!