Dog boarding and daycare for pet parents in the Niagara Falls, and pet sitting for families and farms in the greater Niagara region. Owned and operated by Judith Keenan, seasoned in dog rescue and the pet care industry. Special consideration to those who are adopting or have adopted their furry family members.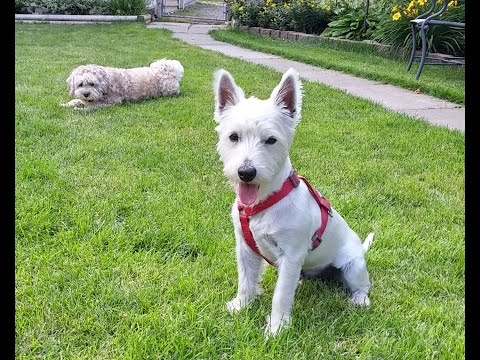 Harris had a great time with Judith. She sent us pictures and a video to let us see how he was adapting to his temporary home. She was great!! - Colleen G.
Experienced Dog Boarding
Judith Keenan has years of experience in taking care of foster dogs for rescue groups, and currently works in the pet care industry.  She states, "I have so much dog savvy under the collar, I'd love to share it with your pet companions too!" She has had a variety of pets – dogs, cats, rabbits and more – over the course of her entire life. Judith is Pet CPR/First-Aid Certified through DogGuru Cheryl Orletsky. Furever Home Pet Care services are also listed on DogVacay.com – check the booking calendar to see available dog boarding dates.
Thank you for taking care of my puppy, Lucky, during our trip to South America. Although it was not necessary, you took the time to send us almost daily pictures and updates. It was really nice. The only draw back to your pet sitting is that now Lucky loves you almost as much as he loves me!

Thanks again for a terrific job. – Lise D, Toronto
Farm and Horse Care Pet Sitting Services
Furever Home Pet Care offers pet sitting services to companion animals that need to stay in their own home while their family is away.  Some of our most challenging and rewarding experiences with pet care have come from spending time on farms, with animals that don't quite fit under the kitchen table. Horses, Vietnamese potbellied pigs, a goat, and little ones like rabbits, ducks and cats have all been cared for in their home and barn settings.
Judith cared for our horses and barn cats a couple of times while we were away at weekend horse shows. Her communication was great, and we felt very comfortable leaving them knowing that we would get an update from each visit. All were quite happy upon our return. We would definitely use Judith for farm sitting again in the future! – Beth, Rose Farms
One on One Dog Boarding
Based at our home in Niagara Falls, we offer in-home dog boarding. We have a fully fenced back yard completely secured for even the tiniest dogs. We ensure the most personal, customized experience for every dog guest. Whether your pet needs 23 hours sleep and one big run like our gracious greyhounds, or they are a go-go-go kinda dog, we can cater our daily life to theirs and give them a fun and rewarding stay. We have a particular specialty in the needs of tiny breed dogs (under 10 pounds) and shy dogs that need an extra bit of understanding to be happy and secure.
Contact Judith Keenan to book your Pet Care!
fureverca – at – gmail.com
Judith was phenomenal with my dog! She not only took care of Penelope but she loved her in my absence. I could see she cared just from all the pics she sent me while she was watching her. Honestly, I would never get this kind of service with any kennel. I highly recommend Judith. – Laurie H
Judith is a wonderful sitter. She has responded to all our questions and received us upon arrival with a warm smile. During our visit of the Falls she texted us updates and pictures of Leo, who looked happy. Judith knew that we would have a long car trip ahead and even walked Leo, before we picked him up, so he could move around outside of the house/garden. She made some cute pictures of Leo and handed us over the prints. I think this gesture was heart warming and really shows, that she not only cares for all the pets but also feels with the pet parents, when we have to leave them for whatever reasons with pet sitters. We thank Judith for having Leo staying with her. And highly recommend her as a sitter. – Olga D
 I highly recommend Judith whether it's for a few hours drop off or an overnight while in Niagara Falls. She was very responsive to ours and Bentley 's needs. She is very knowledgeable and has a wonderful layout for your dog's stay! – Chad S., Bentley's Dad
See More Furever Home Dog Boarding Guests