Training the Pack
With all three dogs together now, Lisa watches as Mishu does just what Trish was afraid he'd do: he body checks them out of the way as his way of getting her attention just to himself.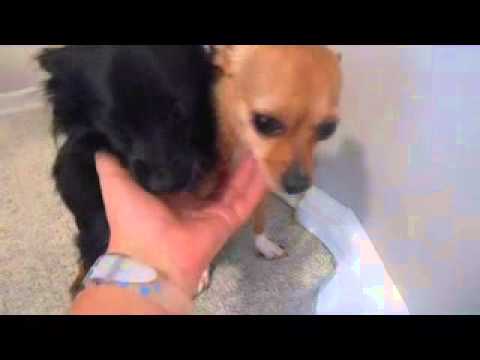 Training the pack will definitely help with this, and more.
"Mishu's been here only a short time and he's already making assessments," explains Lisa, "trying to figure out where he fits in. His behaviour's saying 'I'm more dominant than you guys; I'm the one who's going to get all of the attention." "Buster's the most submissive of the pack," Trish replies, "and yet when Mishu body checks him, Buster corrects him."
"What I do when I'm working with more than one dog is to pet one and stop the other from getting anywhere near us," Lisa says. "Then I'll call the second one over, I'll tell the first one 'no,' and I'll pet the second one. That way I'm the one making the decisions, not them." "Should I follow any special order?" asks Trish. Lisa laughs. "You're the leader! You choose."
When Mishu becomes more animated, Trish asks if she should physically push him away, and Lisa says no, that she tries NOT to touch any of the dogs. Thats because the dog needs to make the choice itself in order to really learn.  
So, instead, both women crouch on their knees, giving them the option to raise their height in combination with a verbal correction to the dogs when needed. Then its Harley that is the first to challenge Lisa for attention! Lisa demonstrates the technique she's suggesting. But even a trainer can not entirely resist the antics of a chihuahua absolutely intent on winning attention – she indulges Harley in a little dance duet!
"One thing I've noticed about petting Mishu,"Trish admits, "is that it's very much on his terms. If I approach him, he tends to be more wary as opposed to letting him come to me." "It all ties in with leadership," Lisa says. "When you ASK him to do something, you're giving him the CHOICE to respond or not. The full respect isn't there yet." "So it's not a fear-based thing, it's all about attitude." Trish is relieved. "Precisely," agrees Lisa. "The more choices the dogs make FOR you, the less likely they are to listen when you TELL them to do something."  Plus, dogs learn as much or more from other dogs, so training the pack is a huge boost for Mishu in preparation for transition to a perfect furever home.
Training from a dog's perspective
One more tip when training the pack. Make a correction noise BEFORE they misbehave or disobey, not AFTERWARD to correct it." Trish seems surprised; she's always done the exact opposite. "That's why our school's a little different, "Lisa says. "We teach people to stop a dog at the INTENTION stage. This way the bad behaviour never escalates."
When the session's over and Lisa leaves, Trish spends some time alone, mulling over everything she's just learned. She realizes that, although she knew much of it from other sources and trainers, what Lisa's shown and taught her about "thinking like a dog" makes a lot of sense. It has more to do with leadership – HER leadership — and less about the dogs. More about being proactive and preventing a bad behaviour from even starting.
The "no follow" command was truly an eye-opener for her as was the fact of Mishu attempting to elevate his status by lying down on top of the sofa. "Who knew?" she chuckles aloud. "Who knew? This little guy is going to be an amazing companion – as soon as I get my leader mojo ramped up!" 
Will Trish step up and assume the mantle of pack leader as Lisa's advised? How will Mishu respond to Trish's new role as the authority figure in the house? Lisa predicts he'll be relieved and happy to give it over – what changes will we see to know if and when that's happened?
About the Series Pawsome Diary of a Dog Rescue
Furever Network is pleased to introduce a new mini-series, Pawsome Diary of a Dog Rescue.  Sponsored by Pawsome Pet Photography, the series follows the rescue, rehabilitation and re-homing of a single dog, Mishu the Chihuahua under the care of Canadian Chihuahua Rescue and Transport, in an effort to bring more understanding of the incredible work that foster families and rescue organizations undertake to get just one dog adopted into a loving Furever home.
Written by Nomi Berger, Puglits Productions with Judith Keenan, Furever
Still Photography and reporting by Trish Aleve, Pawsome Pet Photography
Video and Additional camera by Ramya Jegatheesan, Ramya J. Images
More about Pawsome Pet Photography