Changing Dog Behaviour
Grateful for Lisa's expert guidance, and determined to put into practice all that she's learned, Trish sets out to become a strong pack leader for Mishu and 'the boyz,'resident dogs Harley the chihuahua and Buster the Chihuahua-Papillon cross. She studies the handouts Lisa's given her. She practices growling the distinctive"BAH" (emulating a pack leader telling his wards to "stop what you're doing and pay attention to me"), then fake spraying the squirt bottle she's bought for this purpose.
Changing dog behaviour #1 – No Follow
Armed with her "BAH" and her squirt bottle, she dutifully practices the "no follow" rule. She starts by hiding in the bathroom. With the door slightly open, she peeks to see if Mishu has followed her. As soon as she spots him, she comes out of the bathroom just a little, with a "BAH" and a squirt, and tries not to laugh as he scampers away. The object: to teach him that he's safe without her in view.  Before long, she's happy to report that "Mishu has gained more confidence and doesn't feel the need to be at my heels all the time." Y-E-S!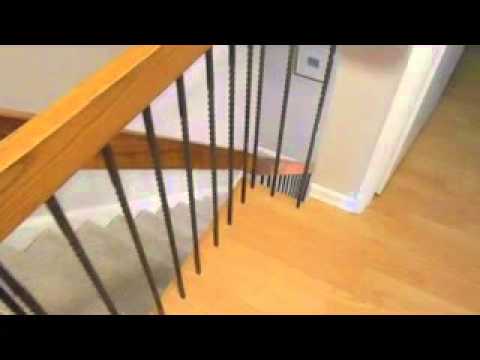 Changing dog behaviour #2 – Front Door & Park Etiquette
She also practices his manners at the front door, which to her delight, "Mishu has picked up rather quickly." "Remember," Lisa had cautioned, "he's got to learn that it's not his job to defend the door."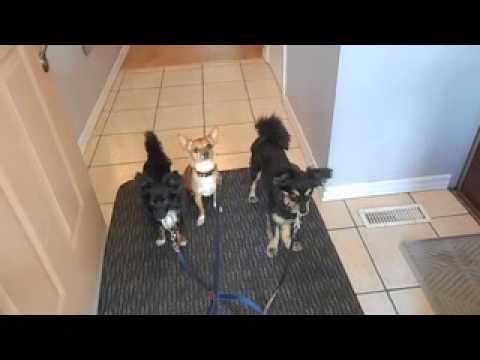 "His better manners have now been translated to the dog park," reports a delighted Trish, "where he happily runs with Buster and Harley farther and farther away from me. He's grown increasingly curious about people."
Changing dog behaviour #3 – Fear of Big Dogs
The exercise at home is equally positive. Trish routinely invites a close friend over and conscientiously applies the "no talk, no eye contact" rule. Mishu soon goes from being curious about her friend and approaching her slowly for treats, to "going over to her without the treats, to receive either a chin or a chest scratch, but even better – a pat on the head." Y-E-S!
Pushing the bar a little higher — Trish's friend brings her own rescued dog, an American Eskimo named Lucy, over to see how Mishu behaves when a larger dog visits. Mishu has a difficult time with that; he reacts aggressively towards Lucy. "He seems to be very good with the other chihuahuas he's met," says Trish, "but being only 7 pounds, he has problems with dogs bigger than he is. Which is practically EVERY dog." She also notices that "as he gets more comfortable and confident, some of his underlying characteristics are showing.
For instance, one of the reasons his previous owners said they surrendered him was his fear of large dogs. But perhaps, Trish thinks, he's not acting out of fear, because he's being proactive. He's actually seeking THEM out when they're within 10 feet of him. He'll then move in, growling and air snapping. "This is precisely what he did with Lucy," she continues. "But after I'd corrected him several times, he finally went over and greeted her properly — with a sniff to her rear." Trish laughs at the memory. "Of course, he received a lot of praise for that." Y-E-S!
Then she grows serious again. "It's dangerous behaviour, though, and puts his own safety at risk if he acts this way with the wrong dog." She shudders at the thought, knowing that as far as they've come together, she and Mishu still have a ways to go.  The big upside, she and any potential adopter know *exactly* what Mishu is all about, and knowing is MORE than half the challenge won!
With his manners improving, will Mishu grow even more comfortable around other people and other dogs? If he accepts Trish as pack leader, he'll be able to accept others in that role too, making him a much happier pup! Will his dog park behaviour be corrected to keep him safe from harm?
About the Series Pawsome Diary of a Dog Rescue
Furever Network is pleased to introduce a new mini-series, Pawsome Diary of a Dog Rescue.  Sponsored by Pawsome Pet Photography, the series follows the rescue, rehabilitation and re-homing of a single dog, Mishu the Chihuahua under the care of Canadian Chihuahua Rescue and Transport, in an effort to bring more understanding of the incredible work that foster families and rescue organizations undertake to get just one dog adopted into a loving Furever home.
Written by Nomi Berger, Puglits Productions with Judith Keenan, Furever
Still Photography and reporting by Trish Aleve, Pawsome Pet Photography
Video and Additional camera by Ramya Jegatheesan, Ramya J. Images
More about Pawsome Pet Photography