Harriette's story is a wonderful story of foster dog care and the dedication of dog rescue volunteers. She was reluctantly surrendered to independent dog rescue group Beaver Creek Farm Sanctuary (BCFS) when the older couple that cared for her since puppy-dom were split themselves; she to a pet-forbidden medical facility, he to move in with family members who could not also take Harriette and her fur-brother Ozzie. It was a wrenching decision for her owners, and tough on Ozzie and Harriette too.
The change in situation may ultimately have worked out okay for Harriette.
That's because Harriette came into foster dog care suffering extreme allergies that had robbed her of most of her fur, left her red and raw and sore all over. Her eyes were swollen and weepy. She was also carrying an additional 20 pounds on her small frame. The average Shih Tzu or Poodle, of which we guess she is a mix, weighs about 12 pounds; Harriette was 32 pounds at the time of her intake. She was morbidly obese. She was also lethargic and seemingly depressed, likely due to her poor health combined with the constant and unwanted attentions of brother Ozzie.
You see Ozzie was unaltered. He was intact, un-neutered. In her overblown state, Harriette could not effectively turn away his relentless advances. He licked her, mounted her, followed her. All. The. Time. When she did lay down, he placed himself strategically so his bum was in her face, she backed into corners.
In a way, it was a form of torture for them both. Ozzie must have been just as frustrated. Thankfully Harriette had either been spayed, or she was biologically unable to have puppies the owners reported, though there is physical evidence, there is also no paper trail anywhere that would support the claim she has or has not ever borne young.
Foster Dog Care for Ozzie
Beaver Creek Farm Sanctuary agreed to bring both dogs into their dog foster program.
Ozzie was likely going to be a relatively easy dog to place. He was healthy, a reasonable weight (because unaltered dogs have a different metabolism, he was not overweight and was not afflicted with allergies. He was younger than Harriette by two years. And he was super cute, friendly, loved attention. He was a very nice boy, despite his animal nature.
Sure enough, after his neuter and some diligent work through the rescue network, Beaver Creek recieved no less than 10 viable adoption applications for him. He went to his furever home within weeks.
Foster Dog Care for Harriette
Harriette was not her brother's sister in the "cute" department. Granted her appearance was grossly skewed by her condition, and underneath there was a lovely gal struggling to show her true self.  Like many creatures whose surface appearance may not immediately attract, she is sweet and friendly and a terrific companion to dogs and people alike.
When she arrived, she tried to jump up on a regular chair and fell back – she was too fat, too weak, without enough muscle to heave her own bulk up. She could not walk for more than ten yards without being winded.
She had to exercise, but put on a super strict diet, with food that excluded as many known or unknown allergens as possible. Antibiotics would take care of the raw skin in the short term; a little prednisone to get the extreme allergies into a manageable state then weaned off as soon as possible. Nutrition was the answer to her  dilemma in the long term.
BCFS had to get her into a dog foster care home that would take her condition seriously. Anything less than military-like discipline would mean a long stay in dog foster care rehabilitation, and a long haul until she could next call someplace furever home.
Rehabilitation
BCFS counts its blessings every day with dog foster family Raye and her husband Paul. They have a houseful of animals whose high sensitivities are just like Harriette's. They know intimately how strict and precise one needs to be to keep animals with unwanted weight and allergies stress-free and healthy. They agreed to add Harriette to their household, in addition to the BCFS chihuahua Tia they were already fostering.
A godsend for both dog and rescue.
On October 26, exactly one month after Harriette was taken into care, Raye reported she had lost 5 pounds. Remarkable! On November 1, Raye reported, "Harriette decided to run on Friday which was the milestone I was waiting for to know she was ready to be  adopted." Doubly remarkable, and demonstrable too. Foster mum sent an adorable little video of Harriette doing just that, a fact that would have been impossible in her previous state.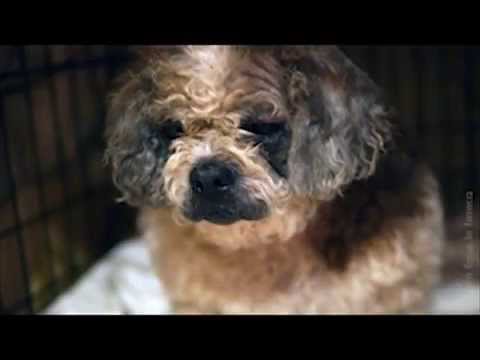 Congratulations to hard working Harriette and her dedicated volunteer dog foster folks Raye and Paul of Beaver Creek Farm Sanctuary! Their collective hard work is paying off, and we hope to see Harriette in a furever home very soon!
Adopt a Shih Poo with Beaver Creek Farm Sanctuary
Beaver Creek Farm Sanctuary is a safe place for animals who have been abused or neglected to recover and become healthy. Our adoption program matches our rescued and rehabilitated animals to the family best able to continue to give them a fine, healthy and happy quality of life.
Find out more about us by exploring our website here or by visiting our Facebook Page anytime.
Online Adoption Application right here!