Applications to Adopt Eda's Puppies Now Being Accepted
Mom Eda was rescued this year from a Northern Ontario reserve.  She gave birth while under the care of the Rescue Dog Match team, and her four pups are doing very well, one boy, and three girls.
As of this date, the puppies are 4 weeks old. Eda has proven to be such a good mama, making sure they are well fed and taken care of, as the team continues to take care of her.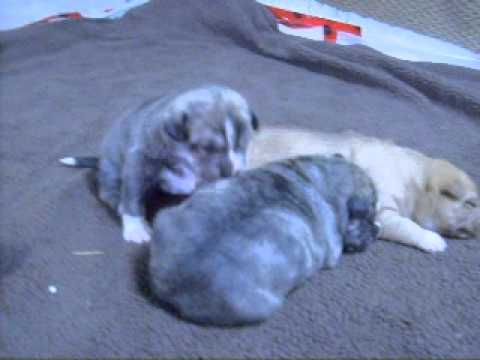 These four little puppies will be ready to go to their new homes in about four weeks. Rescue Dogs Match are now accepting applications. If you are interested in American Bulldog puppy adoption for one of these American Bulldog mixed breed pups, please email Dahlia Ayoub at d_ayoub@rogers.com.
About Rescue Dogs Match
Rescue Dogs Match ( RDM) is a not for profit, 100% volunteer run organization dedicated to protecting those that can not protect themselves. Our focus is mainly dogs but we do not turn away any animal in need.  They are proud members of Helping Homeless Pets, and follow their guidelines of ethics and good practices.
About Dahlia Ayoub, Mighty Mutts Dog Training
Dahlia is a key member of the rescue team that saved these puppies and their mom Eda from the Manitoulin Island resserve. As with all her rescued dogs, Dahlia offers training to adoptive partners under special consideration. Contact her via her Furever Showcase to find out more!