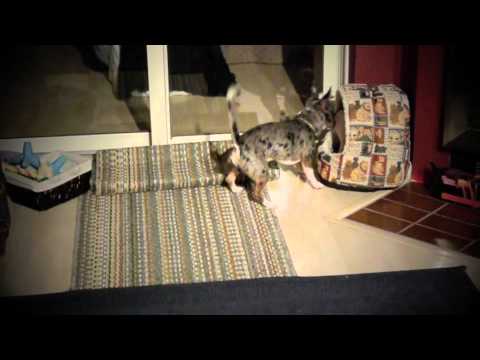 Foster Chihuahua puppy Peanut wasted no time in getting to know his new foster brother McGee!  And McGee is right with him — he proceeds to give Peanut the proper induction to life as a free chihuahua. Peanut the handsome merle-coloured chihuahua was adopted at the ripe ol' age of one year, and now has many comfy beds in his posh furever home!
Peanut the foster chihuahua puppy
Peanut the foster chihuahua puppy came into Canadian Chihuahua Rescue and Transport because his owners could not care for him anymore. That's because he was purchased as a very young puppy from a pet store, along with his litter mate, another merle female chihuahua.  The owners were not aware how quickly toy breeds mature, and the female became pregnant at just 6 months of age.
To compound issues, the owners thought they could manage the pregnancy, until they did a little research (or perhaps were told by their vet) that the puppies from two merle dogs are often born with deficiencies such as blindness, deafness, and other health issues.  They kept the two dogs until just days before the female was due to have her pups, panicked, and called CCRT to surrender both dogs.
The female gave birth, two of the three puppies survived, and of those two, one was born deaf. The story has a happy ending though – all four dogs are now doing great in wonderful furever homes, and are thriving under the care and guardianship of their furever families.