Small dogs are known for being pretty yappy barkers, but did you know they can also howl (sort of)? In this funny dog video, you'll immediately fall in love with Maximus, the sweet Pomeranian who is ready to show us his pipes once he hears some cat sounds. If you close your eyes for a second, you might mistake Maximus' howl for a squeaky toy.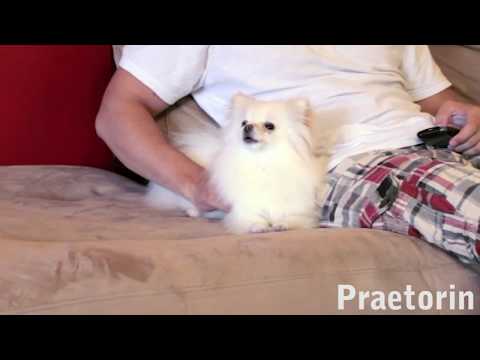 From our collection of funny chihuahua puppy videos — McGee the Chihuahua dog and his foster dog brother Peanut play their silly puppy games!
A dancing star in the mix!  Cassandra Hartman is a world class instructor of dogs who dance, especially Golden Retrievers and Toy Poodles. Check out their awesome routines here.
Life is tuff when you're only 8 inches tall, and this poor Yorkie dawgie is havin' a tuffer one today! What with the squirrels outta reach, the ball under the couch, Peppermint got the last treatz – its a Ruff Life indeed!
Do you have a favourite funny dog video to share? Post a link in the comments below!